Painting with Light illuminates new Art Hour edition with video and light design
Second edition presents new stories and Belgian art for immersive and interactive experience
Genk, Belgium, 1st April 2021 – Following a first successful edition with 60.000 visitors, The Art Hour re-opened this year in the former Holy Ghost Chapel in the historical heart of Mechelen (Belgium). This innovative expo with masterworks of Belgian artists is inspired and developed by art collectors and entrepreneurs Hans & Joost Bourlon. With this interactive concept they make art more accessible to a wider audience and anyone who may not visit conventional galleries. 33 paintings from nineteen Belgian artists between 1850 and 1950 are displayed across three spaces for an immersive experience of exactly one hour. The artworks are presented with a relevant story by well-known Flemish personalities including Marc Van Ranst, Jill Peeters, Arno Hintjens, Wim Opbroeck and Elodie Oueadraogo.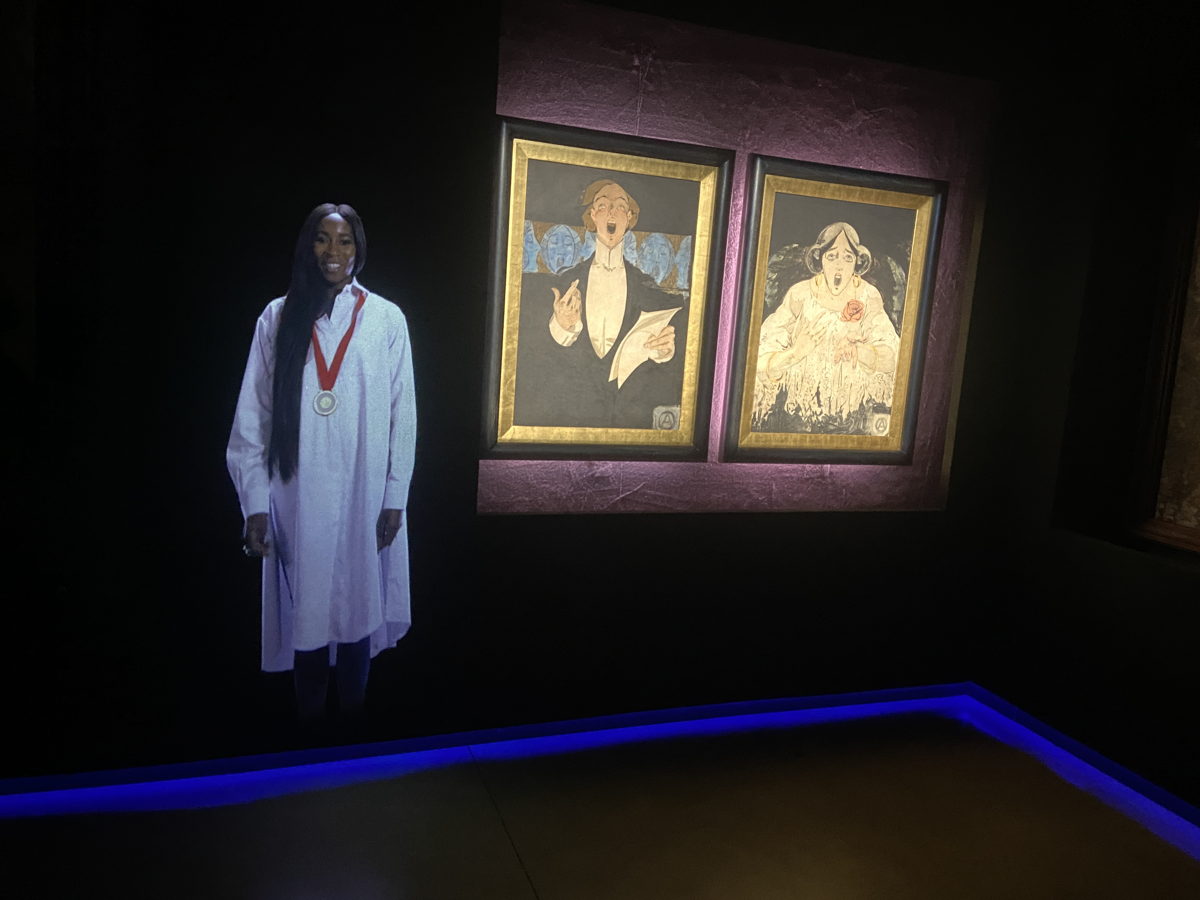 Creative lighting design and media specialist Painting with Light was again invited to manage and design the technical systems and control for lighting, video, audio and humidity control for this intricate and unique project. The team applies its outstanding technical and creative skills to animate such an art project in a theatrical and inspiring manner. Painting with Light has built a strong reputation in creating visual experiences across multiple disciplines such astheatre, live shows, attractions and themed environments, visitor centres, etc.
Ultimate art attraction in one hour
In the first two rooms, each painting is introduced with a story by each designated personality. They appear as a life-size projected video on the gallery wall right beside the painting, projected by Panasonic devices. The third room, situated in the old chapel itself, is a darker, more intimate club-like space illuminated by Chauvet profile spots. Visitors can hear but don't see the narrator while experiencing an immersive light show produced to compliment the art. This altered setting allows a complete change of perspective. The mood shifts from a cool, contemporary art space to a darker, more colourful, funky vibe creating a totally different context. It's a nice playful surprise element at the end of an already interesting journey. There, as the icing on the cake, visitors can admire the magisterial "The Cockfight in Flanders" by painter Emile Claus from Waregem. Various elements of the painting are illuminated one by one, giving a special dynamic to this masterpiece.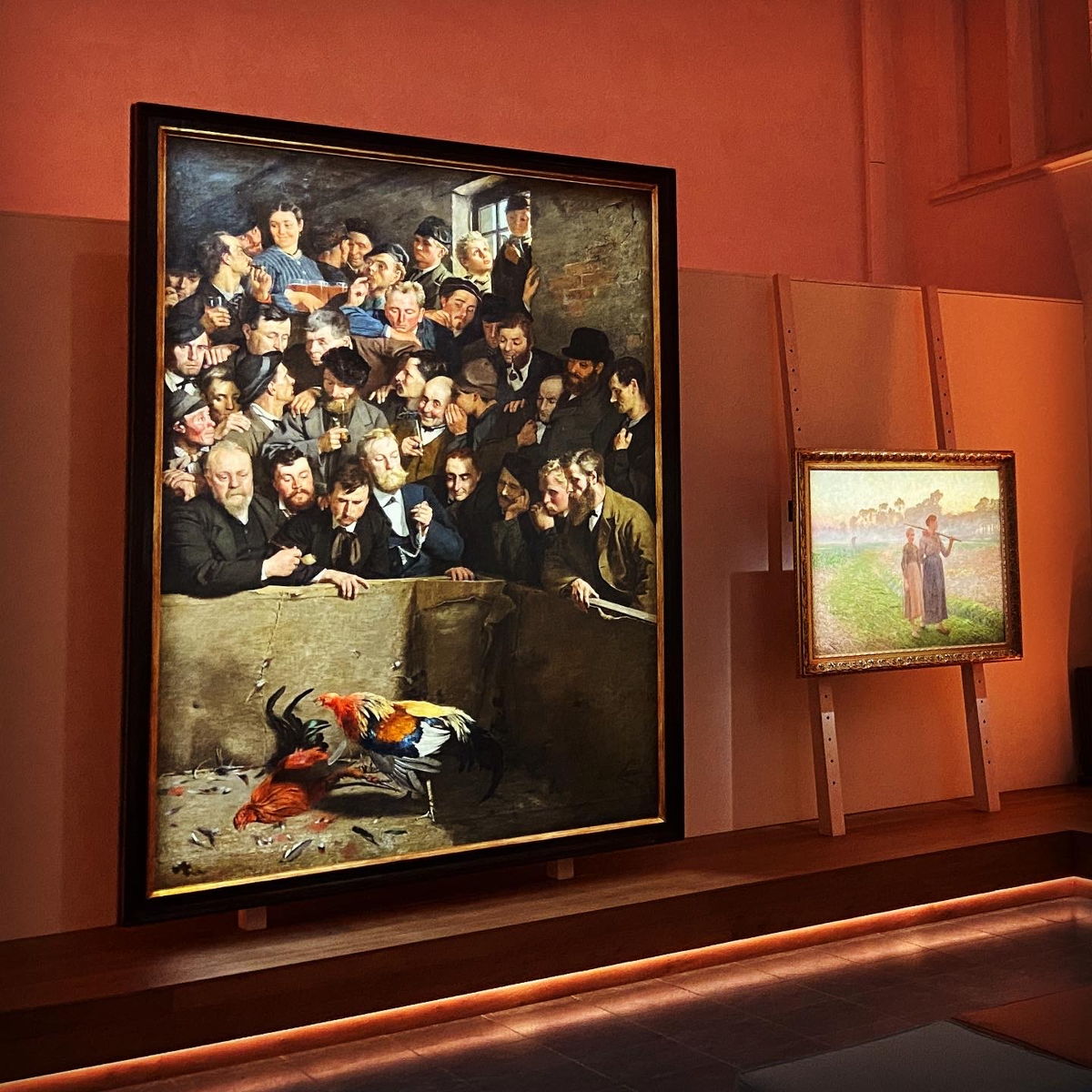 Luc Peumans, CEO of Painting with Light, comments: "It is a pleasure to once again collaborate with the organizers for the lighting design and video programming of this second, and even better, edition of The Art Hour. With our team, we have combined all the creative and technical expertise into an interactive concept where visitors can individually experience each artwork in just one hour. Timing, lighting, audio and visitor flow must therefore be perfectly synchronized. We are happy to contribute in this way to a better knowledge of our Flemish masters with the general public, paying them the tribute they deserve."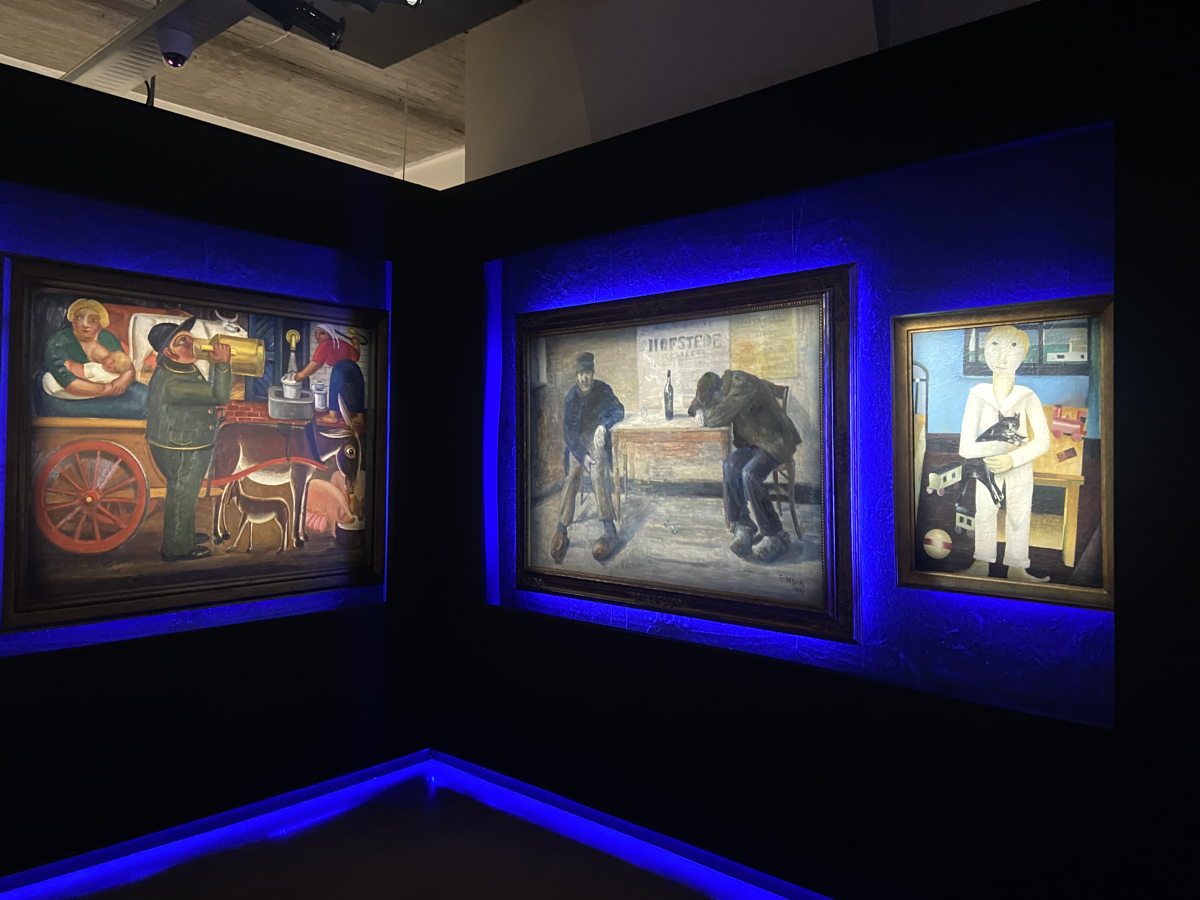 Synchronization of lighting, audio and video for hassle-free experience
During the first phase of the design process, the entire museum was virtually created in WYSIWYG and presented as a VR experience to the project initiators. The Painting with Light team delivered the full technical design including projection system, creative lighting, audio track and control, plus specification, procurement and commissioning of all equipment and its implementation.
Upon arrival in the reception zone, visitors receive their headsets and audio players while waiting for their allotted timeslot of one hour. During the gallery's opening hours, tours commence every 20 minutes. A countdown in the entrance hall indicates when the next 'show' is starting and then the entrance door opens automatically. The auditive and linear guided tour includes explanations by well-known Flemish personalities, different and relevant to each artwork. Visitors can enjoy the show without worrying about which place or artwork to view or visit. Painting with Light provides a seamless synchronization of audio, video and light from the central control room. This allows the visitor experience to take place perfectly within the planned one-hour time frame. Obviously, the entire visit adheres to current Corona safety measures.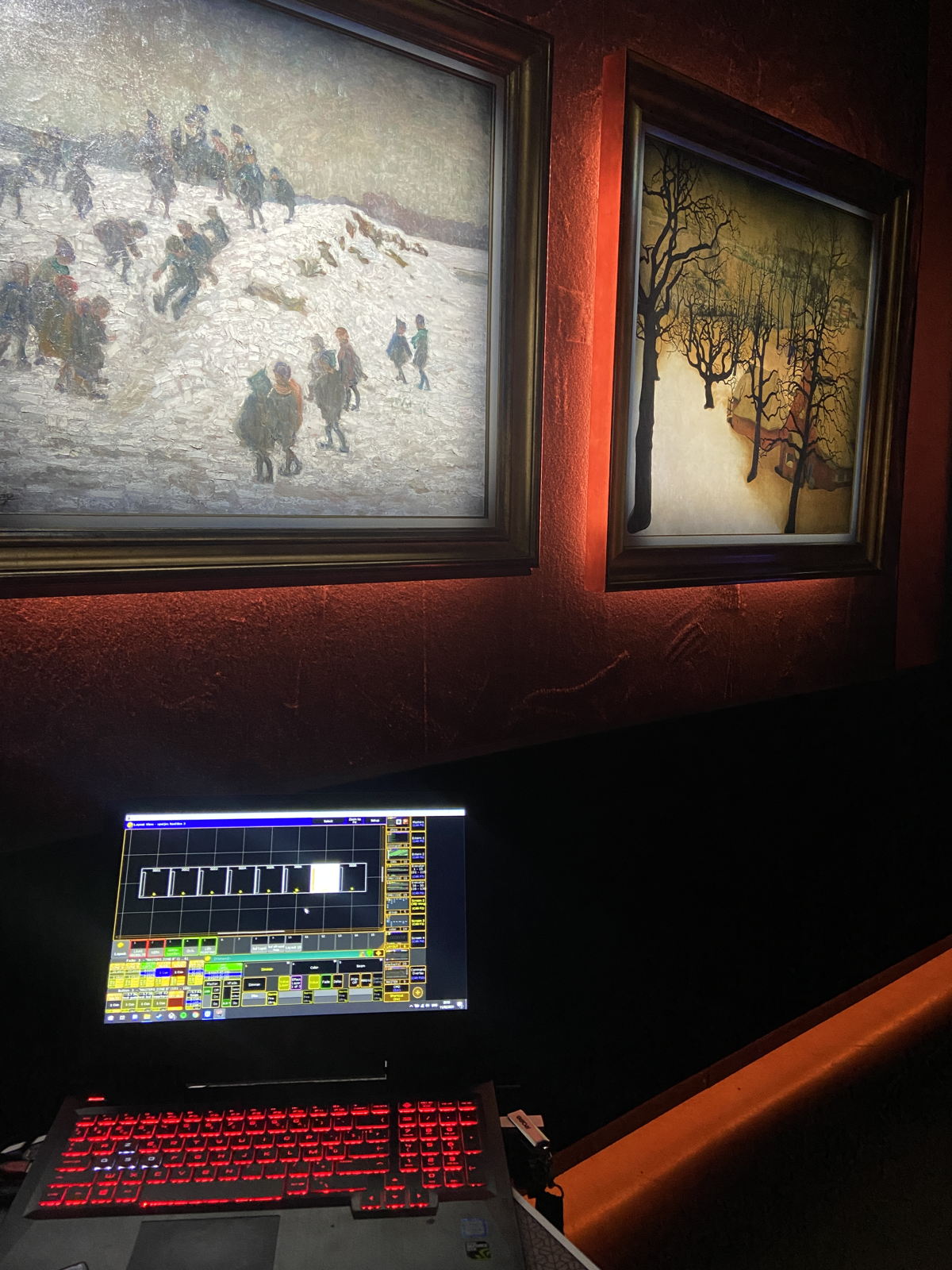 The paintings are mounted on black walls and lit from behind with RGB LED strips, changing colours to generate an ambient light adjusted to each work's specific colour palette. Painting with Light was responsible for focusing the lights and ensuring precisely accommodating the visitor's viewing angles so reflections were minimized. The decor in the first two rooms includes custom black textile wall cladding provided by partner Showtex. To improve the overall atmosphere and give viewers a sense of orientation, linear lighting was implemented at the bottom of these walls. The lighting intensity in the entrance hall is adjusted to the time of the day following an external light sensor. In addition, the humidity level is also controlled to make sure that the artworks cannot be damaged.
The Art Hour runs until 30 September 2021 upon reservation, tickets can be ordered online on https://hetkunstuur.com